The Spontaneous Reader book blog has taken it upon themselves to feature me this month in what they are calling Scott-Tober. There was undoubtedly a vast amount of alcohol involved in this decision. Fortunately, more level heads prevailed at some point later in the evening because even though the bar bill tripled there is no evidence that anyone wandered into a tattoo parlor to commemorate this tomfoolery.
I am extremely grateful for the opportunity The Spontaneous Reader is providing me and appreciate all their efforts in planning this craziness. Special thanks to Rachel Verdi for suggesting this and to Abbie Machie for running with it. These two ladies put in a ton of work to make this happen.
There's a lot going on during Scott-Tober. The promotion kicked off last month with The Lynne Scott Kick-Ass Read-a-Thon in the A Million More Pages group on Goodreads. Each participants reading list had to include at least one of my books. Those who read with us will get to mark off an extra block on the Bingo game we'll be playing and the winner receives a Lynne Scott eBook of their choice.
*drum roll here* The winner of the Lynne Scott Kick-Ass Read-A-Thon is Erin/Ginger. Congratulations!
What exactly is happening this month? Wednesday, October 1st, I was introduced on The Spontaneous Reader book blog where Abbie told her followers what they could look forward to. Yesterday, the Scott-Tober Bingo card made its first appearance.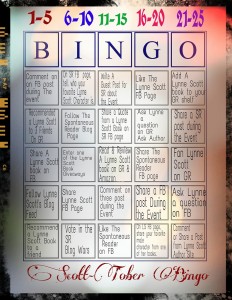 Getting a Bingo enters you in the grand-prize round. The one with the most squares filled in at the end of the month wins. If there's more than one person who fills in the card, we'll put the names in a hat and let Mr. Scott (he's so impartial it's frightening) draw the three winners.
Bingo Prizes are:
1st Prize: A $25 Amazon Gift Card
2nd Prize: A full set of the Blood Link series eBooks
3rd Prize: 3 Lynne Scott eBooks of your choice
(If you are one of my 10 faithful fans and have all my books already – we'll figure out something of equal value. No I can't ship you booze or bullets – quit asking.)
Winners will be announced October 31st.
At least twice each week, The Spontaneous Reader will be featuring one of my books. There will also be a wild and crazy Mad-Libs interview (one of the strangest things I've ever done but a lot of fun), Q&A sessions, and opportunities to win my books. I'll keep you informed both here and on my Lynne Scott Facebook page.
How do you, my ten faithful readers, participate?
First – Print a Bingo card so you can keep track. I wish I could play – I'd use one of those giant wide-tipped black markers to blot out the squares – no dainty daubers for me.
Second – Go to Goodreads and establish an account if you don't already have one. This is where a lot of this action will take place. You won't be spammed and they won't sell your contact information. This is a site for readers to share information about the books they love.
Third – select the Groups tab and skim through the groups until you find A Million More Pages and join the group.
Last step – Look for the Scott-Tober thread within that group and join the fun.
I lied. There's another step in there. Put Lynne Scott in the search box and become my friend and my fan – it's on your Bingo card to do and will only take a minute. You can rate my books and cut and paste your reviews from Amazon into the review block – also on the Bingo card list. Your ratings and reviews are especially appreciated.
That's all there is to it right now.
Truth time. You guys know this is new territory for me and as excited as I am, I'm also nervous. My natural fear and self-doubts are galloping madly, and I'm working at controlling my trepidation through deep breathing and dreams of alcohol and chocolate malts. This feels an awful lot like the first day of school. My biggest fear is that Abbie will have done all this work to throw a party for me and no one will show up. But the fact is that someone is trying to do something good for me, and I'm going to do my best to make it good for them too. So, I'm snapping my cap, stuffing my fears into the corner, and I'm going to smile and have fun no matter what. And when it's over, I'm going to crack open the bottle of Jack Daniels I've got squirreled away and call this Scott-Over-Fest.
Thanks for your support on this crazy ride.