"A Shared Fear"
by Lynne Scott.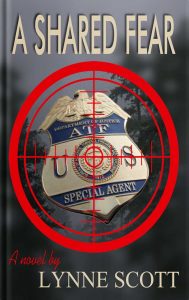 When genealogist Evie Davis and ATF Agent Joe Graves meet on a flight to Portland, Oregon, each thinks they've just become the luckiest people in the world. Both ex-military, they find a common bond in their past vocations as a combat arms instructor and a Marine sniper. Their chance meeting is about to turn their world upside down when they discover Evie is being pursued by a man who is now demanding more than the casual friendship they had – he wants to possess her. Recognizing the danger Evie is in, Joe is ready to protect her, but he has a problem of his own. A contract has been taken out on his life, and the hit man is already waiting in Portland. Thrown together by circumstance, Evie and Joe come to learn they will do whatever it takes to save the other from the dangers that lie ahead.

"A Shared Fear" is available NOW for the Kindle
via Amazon.com, and will be available soon for the Nook at BN.com.